300t marine hoist exports to Iran
Date: 12-28-2015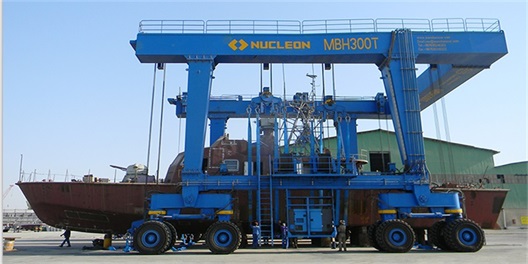 Export country: Iran                         Time: 2015-12-28
---
Capacity:300t         
Span:22.5m          
Lifting height:15m        
Nucleon is a professional marine hoist manufacturer in China, recently 300t mobile boat hoist, developed and manufactured by Nucleon, is being delivered at the port of Bushehr in Iran.The device has a technology that has patented the invention and four patents for utility models.
This marine hoist consists of power system, electric control system, hydraulic control system, lifting system, walking system, steering system, starting system, lifting point adjustment system components, such as double girder structure and mobile cranes dot, replaced the small car with four sets of hydraulic winch, girder 22.5 m long, lifting height of 15 m, it can realize walk straight, oblique line to walk, in situ rotation and ackerman steering, and the combination of motor and electric load sensitive to the way of eight lifting point synchronization, to meet the needs of different working conditions of the customer.
Previously, ship handling equipment was largely monopolized by foreign companies, and few factories were able to develop, produce and assemble domestically.Nucleon company technical personnel have the courage to explore new areas, tapping hard nut, solved the difficult question, successfully developed a yacht handling machine, 300 t and broke our country exports the largest tonnage with such equipment.