Single girder gantry crane with advantages of simple structure, convenient installation, Light weight, is a medium-sized crane.Its metal structure is like a gate frame, which carries two legs under the main girder, traveling on the rails which mounted on ground. The two sides of the main girder can have a cantilever girder. The lifting mechanism mainly adopts standard CD / MD electric hoist, electric hoist generally installed at the bottom of the main girder.
According to the main girder structure form can be divided into box type and truss type, cantilever design on both sides of the cantilever, on one side of the cantilever or no cantilever girder, box type single girder gantry crane main has MH type and L type, we can provide customized design according to customer's requirements.
1.Simple and compact structure, light weight, easy install and maintenance
2.The power supply uses the track, the safety slip wire and the cable conduction device system
3.The operating view of the cab is good, the console is flexible, and the fan, heater, cooler, air conditioner and intercom can be installed according to the customers' requirments.
4.Depending on the environment and application, gantry cranes can sometimes provide the same material handling capacity as similar bridge crane systems, but save a lot of cost.
Single girder gantry crane mainly used for outdoor goods yard, material goods, bulk cargo handling operation.
The safety device are not only the electric  protective devices or alarm bell but other equipments are necessary to guarantee the normal operation of crane and avoid the personal casualty and mechanical damage.Such as:
1. Emergency stop device
2. Lifting height limit device
3. Voltage lower protection device
4. Phase sequence protection device
5. Weight overload protection device
6. Warning indicator: flashing lights and warning sound
7. Rain cover for outside hoist, driving units, electrical cubicle.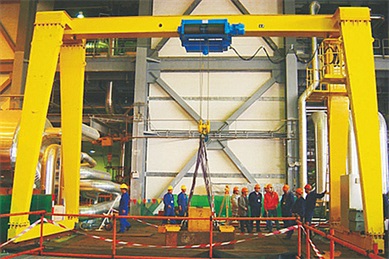 MH type single  gantry crane
1. Cantilever design on both sides of the cantilever, on one side of the cantilever or no cantilever girder
2. The crane power supply can be through cable car and cable drum reel, and customers can choose one of them.
3. Lifting system: CD1/MD1 wire rope electric hoist,which travels on the bottom of main girder.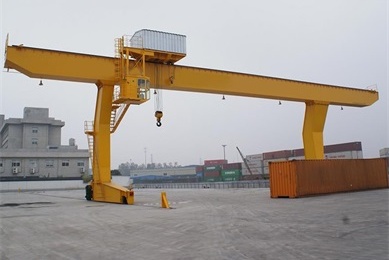 L type single  gantry crane
1. It is shaped like L, with simple structure and convenient installation. The two ends have no legs to obstruct the carriage of goods, and it is more convenient for hoisting goods
2. The electric power supply adopts the track, the safety slip wire and the cable conduction device system;
3. Lifting system has electric wire rope hoist and trolley, electric wire rope hoist travels on the bottom of main girder,the trolley travels on the main girder