Portal crane adopts modular design,the structure is reasonable. It is mainly used for loading and unloading of port cargo, it consists of frame, hoisting mechanism, mobile mechanism, lifting device, electrical equipment and other auxiliary equipment.
There are two main types: single jib portal crane and four link portal crane.
1. Modular design, reasonable structure and convenient installation.
2. It is convenient to maintain the motor, reducer and other equipment with large channel.
3. Unique waterproof rope design, and other waterproof devices, effectively prevent rainwater from entering the crane interior.
4. There is an electric interlock rotating anchor between the rotating part and the door frame, and the operation is stable and reliable.
5. The lubrication system adopts dual – line centralized lubrication system, which can realize automatic refueling, and can also choose manual refueling to reduce the maintenance cost.
It is widely used in port handling, loading and unloading, shipbuilding and repair yard etc.
Single jib portal crane
Single jib portal crane is mainly used for bulk material handling in small and medium-sized ports. The steel structure includes the cantilever and a frame, the platform and the gantry frame. Using a rack amplitude or a string amplitude (block and rope), with hooks and grabs, the lifting and transfer of the goods can be accomplished through load, horizontal displacement and rotation or ascension.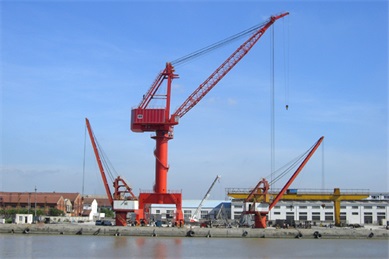 Four link portal crane
Four link portal crane is mainly suitable for multi-type cargo port, which is a kind of mobile, all-rotating, four-bar combined crane.It has a pitch mechanism, a rotary body, and its arms and weight are balanced. The portal framework has a cylinder and four triggers to choose from.
Beautiful appearance, safe and reliable, durable and easy to maintain.